Travel Agent Training
Get Started Today
One of the biggest benefits of our program is our travel agent training. In order to book travel and gain new clients you have to be knowledgeable and confident about what you are selling. That's why we make sure our associates are fully trained and comfortable with booking travel, whether it's a simple hotel reservation or a large group of 10+ cabins on a cruise.
Our start-up training program covers all the travel agent basics and also offers tips about owning a travel agency. After you have completed your New Agent training, you can move on to more advanced topics and take advantage of our ongoing training opportunities and education centre.
The best part about our travel agent training is that you can complete it online, at your own pace! Our experts have created interactive web-based lessons to provide you with the knowledge and skills you need to succeed in the exciting world of travel!
Screen shot from the Welcome Page of the travel agent portal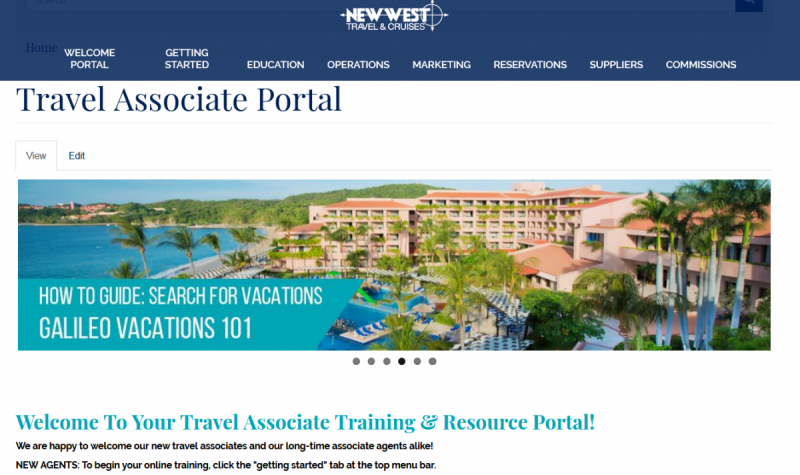 Start Up Training
Our Training team gives you the tools you need to get your business up and running and keeps you up-to-date with ongoing training. Agent Support can answer questions, provide suggestions and make recommendations when you are in need of support.
Beginning your training is as simple as logging into your Travel Agent Portal and clicking on the "Getting Started" tab. Our Agent Portal has everything you need to put you on the path to success. Once logged in, you will find a wealth of information that has been categorized for you in easy-to-navigate topics such as Education, Marketing, Operations and more.
Travel Agent Training Guide
To help you through your initial training, we have put together a comprehensive Travel Agent Training Guide. This guide includes the basic information you need to begin your travel agent career, including Preferred Supplier information, sales techniques, marketing information, instructions on how to handle client situations and much more. All new agents receive a copy of the guide.
Certification
Once you successfully complete our New Agent Program and pass the final assessment, you will receive a Certificate of Completion from our Training team to proudly display in your new home office.