Discover the world of River Cruises in Europe, Asia and beyond. When you take a river cruise you will experience inspiring destinations, beautifully crafted itineraries, expert tour guides, elegant ships, fine cuisine, excellent service and remarkable value. River cruising success is defined by all these things, and something else, too: personal attention to every detail. Every gentle bend of the river reveals another fascinating sight as your luxurious river cruise ship winds its way through scenic landscapes. These river ships are designed to cruise the world's great rivers and are built for every comfort.
Avalon Waterways 2020 FREE AIR promotion!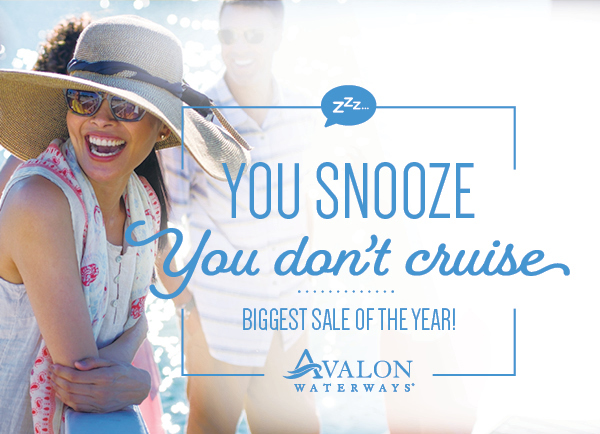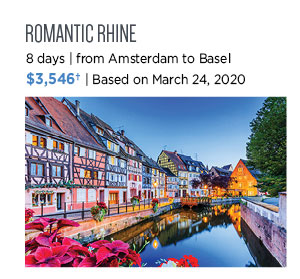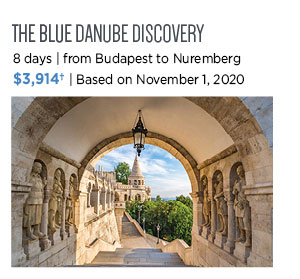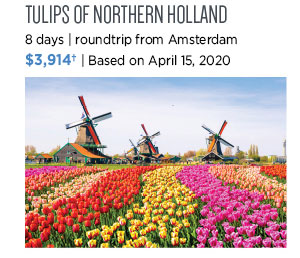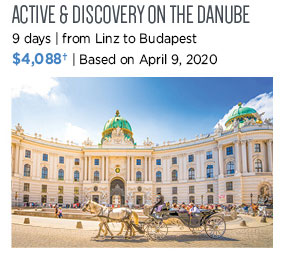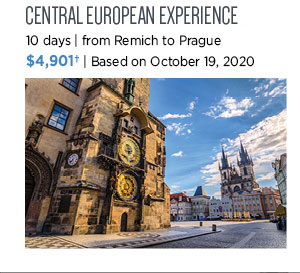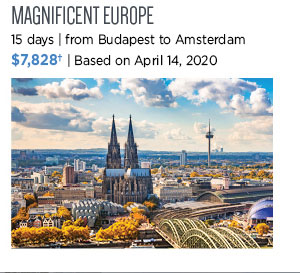 Why choose a River Cruise?
See the World's Great Cities
Paris, Vienna, Budapest, St. Petersburg…because so many cities and towns developed along waterways, they were literally made to be accessible by river. Sail directly to the heart of many destinations and walk right off of your river cruise ship into the center of town.
Travel With Ease
After boarding the ship, you'll unpack just once for a relaxing stay in your spacious stateroom. Enjoy comfort for the duration of the cruise. And because the rivers offer smooth sailing, the likelihood of motion sickness lessens.
A More Intimate Experience
Many river cruise ships accommodate less than 300 people, making this a great trip to meet new people and make friends for a lifetime. And there is no waiting in long lines to embark, disembark or have a meal.
New Scenery Throughout Your Entire Journey
Fairytale palaces, towering gorges carved through millennia, tiny villages nestled in the still preserved beauty of the landscape—enjoy breathtaking scenery that's constantly changing through panoramic windows in the restaurant and lounge and stunning 360° views from the sun deck.
Culture & History
Stroll through an open air architecture museum in the middle of a Russian lake; watch the artists at work in a Meissenware studio; listen to a concert of ancient bronze bells in Wuhan. You are unlikely to reach these places any other way.
Travel Your Way
Join the guided walks and in-depth excursions planned for you in each destination—or sightsee on your own if you prefer. The choice is yours.
*Book a select 2020 Avalon Waterways Europe river cruise to receive free round-trip economy class trans-Atlantic air from Calgary, Edmonton, Halifax, Montreal, Ottawa, Quebec City, Regina, Saskatoon, Toronto, Vancouver, Victoria, Winnipeg. Other gateway cities available for $199/person additional (inclusive of taxes/fees). Free air offer is based on lowest-priced economy class Flex airfare available for booking at time of reservation and scheduled to coincide with cruise itinerary; pre-assigned airline seats are limited and may not be available on all air segments. Quotes available online or by calling a Travel Professional. Limited to new bookings for CANADA originating travellers and economy class Flex air tickets; must be booked & under deposit between May 1 - August 27, 2019 for travel in 2020. A $550 non-refundable deposit is due at time of booking. Offer does not apply to instant purchase air and Groups. Offer is combinable only with the Welcome Back Credit (if applicable). Not applicable on Royal Suites. Promotional discounts do not carry forward on voluntarily changed air bookings; other promotions at time of change may be available. Once ticketed, air reservations subject to change/cancellation penalties of between $300 per ticket and 100% of ticket value. Changes to ticketed air reservations (including itineraries involving free round-trip trans-Atlantic air) also subject to airfare differentials between originally ticketed air itinerary and re-ticketed air itinerary. Additional airline baggage fees may apply; visit www.iflybags.com for details. Air schedules are available approximately 330 days prior to return travel date. Flight schedules, routings and air carriers are at the discretion of Globus family of brands. Additional restrictions apply; see Travel Terms for details. Offer may be withdrawn at any time. Offer available from participating GFOB offices only.