Travel Agent Marketing Centre
We Are Here To Help!
Our Marketing Centre is a totally unique program designed to provide new agents with access to everything that they need to build a loyal client base. We want all of our agents to be successful, which is why we provide you with all the marketing tools, resources, and templates you need to run your business!
Through our custom-designed marketing training, we will show you how to hit the ground running right out of the gate. From helpful advice about naming and branding your business, to customizable flyer templates, our marketing center is jam-packed with all the promotional essentials, plus so much more.
Included in the centre are informational modules like:
Easy Marketing Tips & Techniques

Access to Newwest Travel Graphic Designer

Internet Marketing Promotions

Designing Your Agency Brochure

Using Vendor Brochures

Sample Marketing Letters and Emails

How to Find Clients

Utilizing Direct Mail Programs

Telephone Sales & Talking Points

Managing Prospects and Clients

Beginner and Advanced Facebook Training
Below is a screen shot of our marketing centre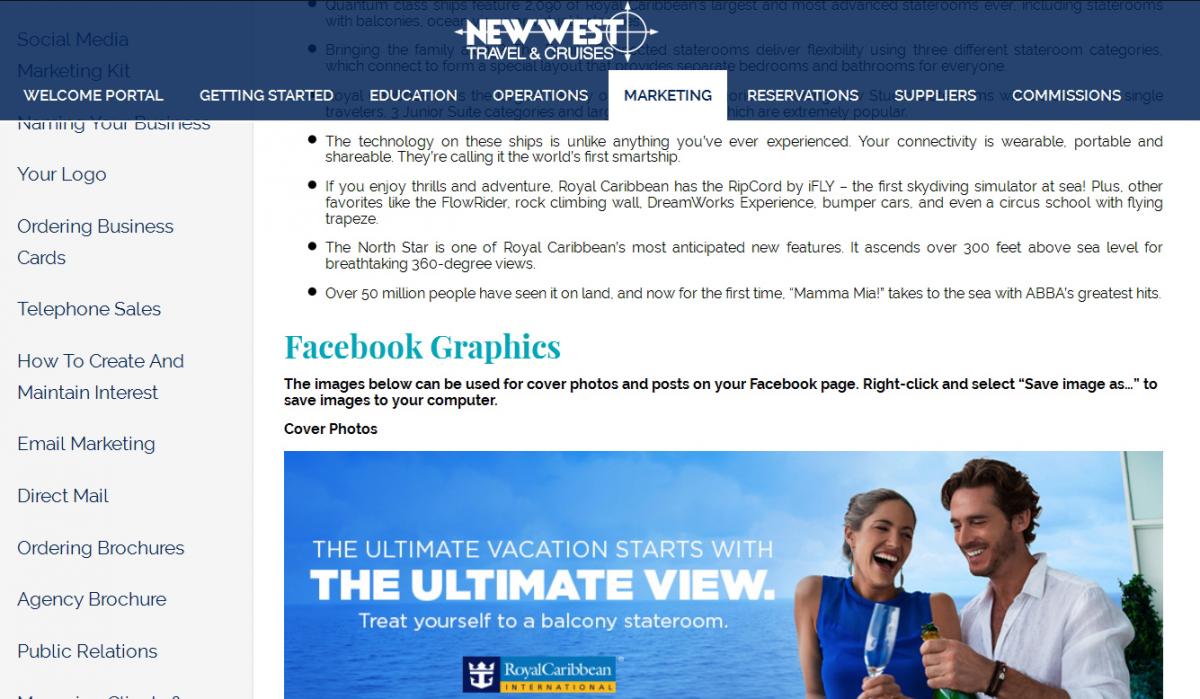 Not only will we guide you through obtaining essential marketing materials like business cards and brochures, but we'll also help you develop an Internet presence through our innovative social media trainings and website building partners.
Building a brand and promoting your agency are some of the keys to success and our proven marketing tools and techniques will help you work smart to ensure you get the most out of your sales efforts!