Globus Asia Tours
EXPERIENCE ASIA IN 2019
From the Great Wall of China and the ancient Angkor temples in Cambodia to the historical monuments in Vietnam and the temples in Thailand, no one shows you Asia like Globus. Discover Asia's most famous cities—Beijing, Tokyo, Hong Kong, Shanghai, Delhi, Ho Chi Minh, Hanoi, Siem Reap, and Bangkok—as well as its cultural treasures, historical monuments, and smaller regions.
China tours, Japan tour, and India tours from Globus includes the activities and sights you must experience while in Asia as well as unique cultural experiences. Receive a fishing lesson from a fisherman in Hoi An, witness the Peking Opera in Beijing, sample sake at a Japanese brewery, enjoy a boat ride through the Damnoen Saduak Floating Market near Bangkok, take a rickshaw ride through a colourful local bazaar in Delhi, plus many more behind-the-scenes activities and hidden gems.

FEATURED TOURS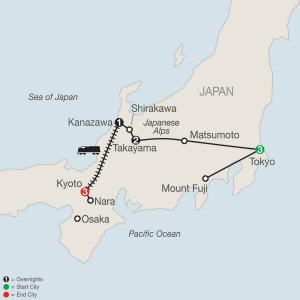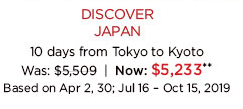 From bustling cities to quiet mountain villages, experience the distinct flavor of Japan during this amazing vacation. Of course, you'll visit Japan's famous sights, including many of its castles and shrines. In Kyoto, see the Temple of the Gold Pavilion, a Buddhist temple covered in gold leaf, and be amazed at its beauty. In Nara, visit Todaiji Temple, a UNESCO World Heritage Site built in 752 AD and one of Japan's most significant temples. You'll also visit the traditional Gassho-Zukuri-style (joined hands) thatched houses in Shirawaka and Tokyo's Meiji Shrine, a magnificent Shinto monument set in a man-made garden.
On this Japan tour, you'll not only see the fascinating structures and shrines, you'll also have a chance to visit one of Japan's greatest gardens—Kenroku-en. According to the ancient Chinese book of gardens, gardens should have six different sublime qualities, but it is rare to find all six qualities in a garden. Dating from the 1670s, Kenroku-en does in fact combine the six attributes of a perfect garden—spaciousness & seclusion, artifice & antiquity, and water-courses & panoramas. Keep your eyes open for the perfect photos!
But that's not all…on this tour, you'll discover Japan's culture through special experiences arranged by Globus. Partake in a traditional tea ceremony, taste sake, and participate in a Japanese cooking class. You'll also attempt calligraphy, learn about the Yuzen dyeing technique used on kimonos, take part in a gold leaf class, browse a farmers market, and try on a traditional kimono.
All of this and much more await you on this marvelous Japan tour. It's a vacation of a lifetime!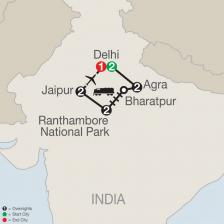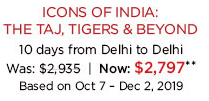 Discover India, a diverse country filled with a long history, a variety of languages, amazing monuments, and a rich cultural heritage. On this India tour, you'll visit some of India's most famous sights and get to know the culture through special experiences. Of course, you'll visit the Taj Mahal, built by Moghul Emperor Shah Jahan as a memorial to his beloved wife. Built from 1631-1648 AD, he employed thousands of artisans and craftsmen as well as a labor force of 20,000. You'll get the chance to see this amazing structure at sunrise, plus Agra Fort, the 16th-century red sandstone fortress where Moghul rulers lived. In 1876, Jaipur was painted pink to welcome the Prince of Wales, and it has been known as the "Pink City" ever since. Here, visit the Amber Fort, built in 1592 with white marble and red sandstone.
Remarkable structures are just part of India's appeal. You'll also enjoy a rickshaw ride through a colorful local bazaar (a unique adventure included by Globus), a cooking demonstration of Indian food, and a home-hosted dinner with an Indian noble family—another out-of-the-ordinary experience offered by Globus. A final tour highlight is a visit to Ranthambore National Park. Here, three game drives in an open-air safari vehicle give you an opportunity to see native wildlife, including the elusive leopard and Bengal tiger.
These are just a few of the many highlights offered on this spectacular India tour. If you're a traveler looking for a new adventure, this is the vacation for you!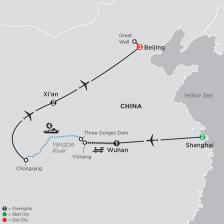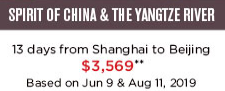 Spend 13 spellbinding days on your affordable tour of China, including a picturesque Yangtze River cruise. Your vacation in China begins in the exciting city of Shanghai on the Yangtze River delta. You'll marvel at the exquisite Yu Yuan Gardens and the Shanghai Museum—with works of art dating 6,000 years old. In Wuhan, explore beautiful East Lake—China's second largest freshwater urban lake. Discover 200,000 cultural relics in the Hubei Provincial Museum, including ancient pottery, jades, artwork and coins. Next, board the bullet train to Yichang to embark on your 4-night cruise on the legendary Yangtze River.
Before passing through the dramatic vistas of the Xiling Gorge, you'll visit the monumental Three Gorges Dam. Disembark briefly from your ship to glide on the mysterious emerald waters of Goddess Stream on a boat excursion, then continue on the Yangtze through its dramatic gorges lined with forested mountain views. You'll tour Shibaozhai with its 400-year-old, 12-story, red wooden pagoda perched high on the cliff side.
Disembark from your Yangtze River cruise for more adventures, beginning with a visit to see the pandas at Chongqing Zoo. You'll fly to Xi'an, one of China's great ancient capitals, to see the emperor's vault surrounded by the stunning find of its thousands of Terracotta Warriors, chariots, and horses guarding the tomb. In Beijing, take a guided tour of Tian'anmen Square past Mao's Mausoleum. Visit the Forbidden City—the largest collection of China's ancient buildings and home to the historic Ming and Qing dynasties. Your budget-minded tour of China includes once-in-a-lifetime experiences, including a visit to the iconic Great Wall of China. You'll witness sweeping vistas from the wall that once stretched 4,000 miles across China's barren northern terrain.
Your value-minded tour of China and the Yangtze River is a journey into a spirit of history, beauty, culture, and natural wonders like no other.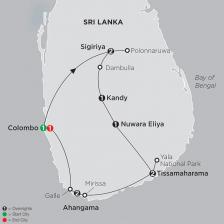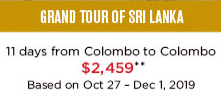 One of the world's top five biodiversity hotspots, Sri Lanka offers not only opportunities for seeing wildlife in their natural habitat, but also stunning landscapes, beautiful coastlines, the world's finest teas, and lots of historic sites with a culture dating back over 2,500 years. In fact, this "Pearl of the Indian Ocean" has been named one of Asia's leading destinations and on this Sri Lanka tour, you'll experience all of this and more.
Travel to Sigiriya to visit the rock fortress, an incredible volcanic formation that has served as Buddhist monastery, ancient palace of a king, and a frescoed fortress. You'll visit the Dambulla Rock Cave Temple—the largest and best-preserved cave temple complex in Sri Lanka—with 23,000 feet of murals and statues of Buddha, Sri Lankan kings, gods, and goddesses. Also visit Kandy's Temple of the Tooth—which holds the relic of Buddha's tooth. Stroll through the exotic Peradeniya Botanic Gardens to see a collection of orchids, spices, and medicinal plants. You'll pass through forests to the misty hills of Nuwara Eliya—with the perfect climate for tea production. Visit a tea factory amid the rolling hills high above sea level and see the beautiful Ravana Falls on your way to Tissamaharama.
Your value-minded vacation in Sri Lanka is never short on thrilling experiences, including morning and afternoon game drives in spectacular Yala National Park—home to leopards, elephants, sloth bears, water buffalo, and crocodiles. You'll also visit to an elephant transit home, and embark on a whale-watching expedition in Mirissa Harbor where you're apt to see whales, orcas, manta rays, dolphins, and turtles. For value-minded, savvy travelers, this Sri Lanka tour is sure to awaken and delight all of your senses!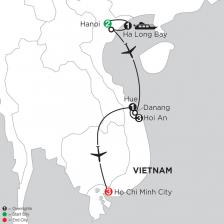 Breathtaking landscapes, rich culture, and culinary delights make Vietnam a country that is not to be missed! Let us show you on this 11-day vacation. Monograms makes it easy for you to venture through Vietnam, because we have taken care of your hotel accommodations, transportation, private guided sightseeing, and daily breakfast. You'll also have access to a Local Host, who can provide suggestions about what to see and do during your stay.
Your vacation in Vietnam begins when you arrive in Hanoi. Monograms can pick you up at the airport and get you to your hotel effortlessly. Your Local Host will greet you and help familiarize you with the culture and traditions of the city. The next morning, indulge in an included breakfast before heading off on a private guided tour of the city, where you'll wander the ancient streets of the Old Quarter, visit the Mausoleum, One Pillar Pagoda, Presidential Palace, and Hanoi's first university, the Temple of Literature.
The next day, take a private transfer through the countryside to Ha Long Bay, a breathtaking UNESCO World Heritage Site that is dotted with more than 3,000 limestone islands. Upon your arrival, you will board an overnight cruise that will take you to explore the beaches, caves, and floating villages scattered throughout the bay. You may also choose to enjoy a traditional Vietnamese cooking demonstration while on board. You will disembark the following day to catch a quick flight from Hanoi to Danang, near Hoi An.
You'll have two days to explore Hoi An. The first day, enjoy a private guided tour of the Central Market, where you can buy local goods, from fresh fish and spices to silk; the Hoi An Museum; and a Chinese assembly hall. On your second day, you'll take a cruise on the Thu Bon River and take a fishing lesson from local fisherman. You will also meet a local farmer to learn about his daily life. On both days, enjoy the afternoon at your leisure to explore further or relax at the beach!
Then, you'll visit the Cham Museum before driving north over Hai Van Pass, considered one of the most scenic spots in Vietnam. You will spend the duration of your day in Hue, where you will visit the Imperial Citadel and the Thien Mu Pagoda. You'll also get to visit the Tombs of the Nguyen Emperors, and the Royal Tomb of Tu Duc.
Finally, you will spend two days in Ho Chi Minh City. Take a private guided walking tour along Dong Khoi Street, where you will see some of the city's historic landmarks, including Ho Chi Minh Square and the Municipal Theatre. Visit the moving War Remnants Museum and the city's oldest and largest market, Ben Thanh Market. On your second day, you will visit the Cu Chi Tunnels, more than 120 miles of underground tunnels, formerly used as a hideout for the Viet Cong. There's plenty of free time in the afternoons to do as you please. You may like to shop for souvenirs or sample pho (noodle soup) or che (local dessert) at one of the many open-air restaurants. Your Local Host can make suggestions and help you make the most of your stay.
Make your vacation to Vietnam one to enjoy, not stress about! We handle the hotels, transportation, private guided sightseeing, and activities for you, so that your only worry is which local specialty to try next!