Make 2020 the year of adventure!
Join Newwest Travel for an informative travel talk seminar with presentations by Avalon Waterways, Globus Family of Brands and CIE Tours. Learn more about group travel from Edmonton plus highlights of some of the top destinations to visit this year. You'll also be eligible to win a $500 travel voucher!*
Here's a sneak peak of the travel topics
Avalon Waterways
Learn more about European River Cruises. Whether you want to enjoy a guided walking tour of one of Europe's great cities, join a cooking class or paddle a canoe, our Avalon Choice selections of Classic, Discovery, and Active excursions offer a wide range of possibilities.

What's the best time of year to go on a European River Cruise

What's the difference between a River Cruise vs a Motor Coach tour

Join Newwest Travel in Europe on a group river cruise tour departing Edmonton in October. Exclusive Travel Talk Seminar offer, save $1,200 per person!
Globus Family of Brands
If you're new to travel, you may be unclear on some of our terms. A tour? That's what rock stars go on, right? Not exactly. Travellers looking to experience the wonders of the world go on tours, too. There's nothing easy about planning a vacation – the research, the planning, the reservations, and the logistics. Add in currency conversions and language barriers and you have one major project on your hands. A tour handles all the hassles, while you have all the fun.

Group Departure to Europe featuring Switzerland, Germany, Austria & Italy. This 17-day tour departs from Edmonton on June 12th

Group Departure to Australia & New Zealand. This 19-day tour departs Edmonton on November 22nd

Group Departure to South Africa. This 22-day tour & safari departs Edmonton on September 3
CIE Tours
CIE Tours International has helped generations of travellers experience the beauty and wonder of Europe, forge new friendships, and be welcomed home far away from their homes. CIE Tours has a reputation for excellence rooted in its signature Irish hospitality, the genuine warmth of its guides, and a talent for fostering lasting friendships on the road. We offer exclusive access, authentic experiences, and in-depth knowledge that, in the spirit of our heritage, often begins with a story.

Group Departure to Iceland & Ireland. This 12 day tour departs Edmonton on July 1st

Guided tours to Italy and England & Wales
Tickets to this event are free! Get your tickets today, very limited space!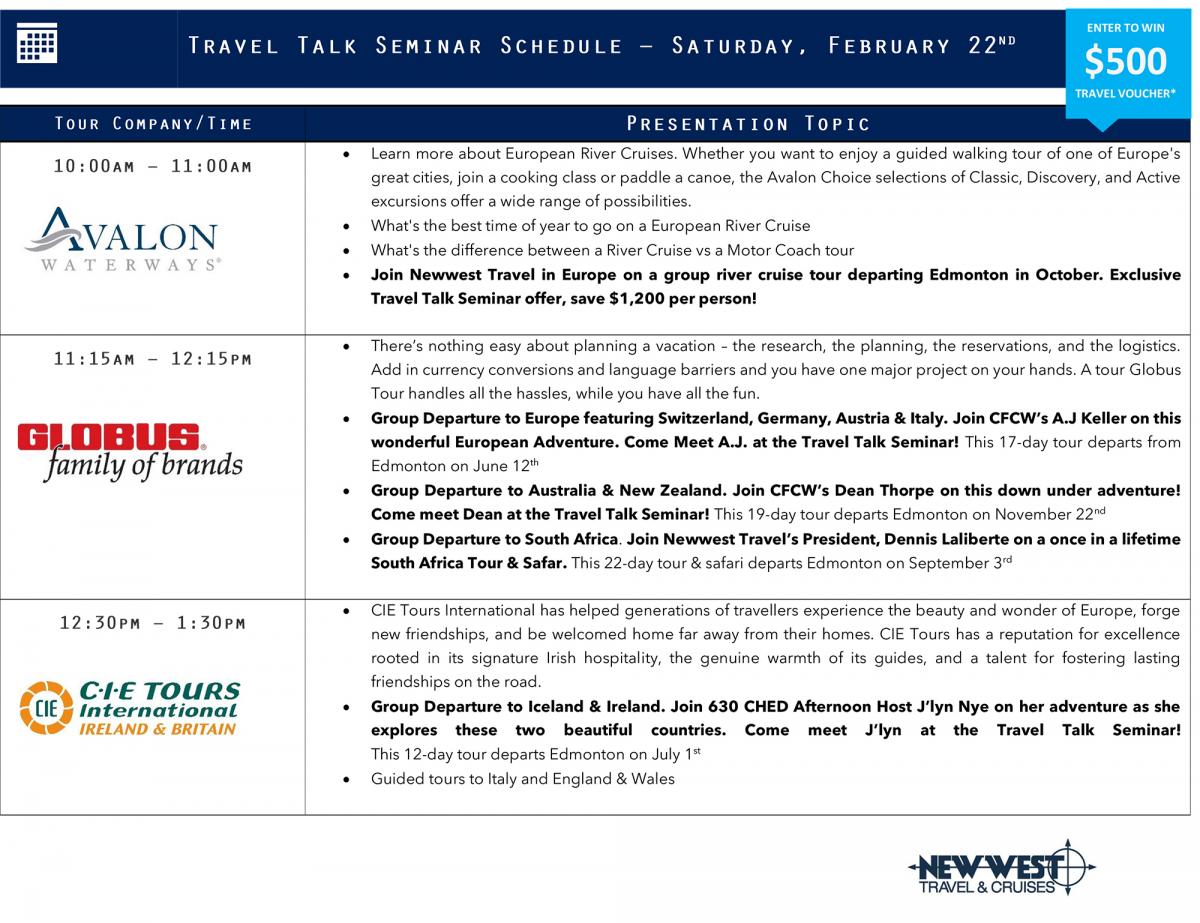 *$500 travel voucher will be awarded at the Travel Talk Seminar. The $500 travel voucher can only be used towards a group departure talked about at the Travel Seminar