You are here
Destination Spotlight: Riviera Maya
Dec 13, 2017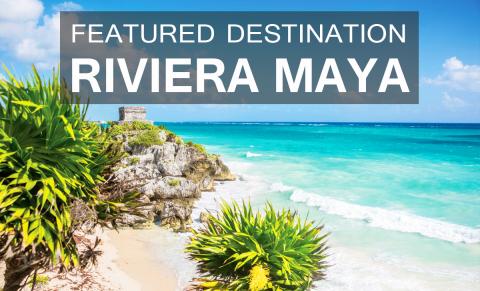 This week our destination spotlight heads south to Mexico and the Riviera Maya!
The capital of the Riviera Maya, Playa del Carmen, evolved from a small village of Mayan pilgrims to a lively, cosmopolitan city with the highest urban growth in the country. Its natural features, beauty and long beaches, its enviable geographical location and its blend of sea and jungle make this destination on the Mexican Caribbean a magnet for Canadians.
In this diverse city, activities and imagination go hand in hand: the coast lends itself to all kinds of water sports. There are diving facilities, sport fishing and jungle treks to nearby archaeological sites.
The other famous destinations of the riviera, each with its own unique character and attractions, are Akumal, Tulum, Puerto Aventuras to name but a few.
Climate
The climate in the Riviera Maya is hot and humid, but the humidity is not as high as in other areas. The average annual temperature ranges from 25 C to 30 C.
Offshore water temperatures range from 26 C in January to 29 C in August. May through November is the rainy season.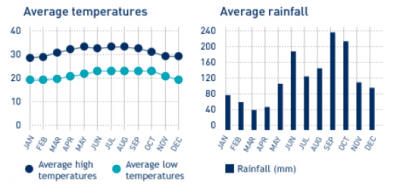 Top Beaches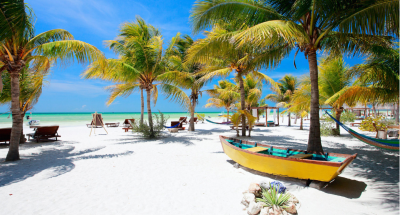 Playa del Carmen
Provides an enormous variety of water activities, ranging from swimming, boating or more strenuous sports such as windsurfing, sailing or diving in the nearby reefs.
Akumal
Akumal consists of a beautiful bay whose fine, white-sanded beach runs parallel to a protective coral reef about 300 meters out to sea. The sea is many different tones of blue and is the ideal place to dive and watch the sea turtles that come here to lay their eggs in the summer.
 
Tulum
An archaeological zone, whose location on the edge of a cliff overlooking the Caribbean Sea makes it one of the most spectacular in the Riviera Maya.
 
Chemuyil
The almost negligible waves make this place ideal for diving between the beach and the reef that is inhabited by many different species of multicoloured tropical fish. The beach has fine, white sand and is framed by rocky promontories at either end, making it into a cozy, small cove.
 
Xcaret
A small clear bay with caves and freshwater cenotes, or the limestone sinkholes
Contact us today to start planning your next Riviera Maya adventure!