You are here
Destination Spotlight: Huatulco
Jan 26, 2018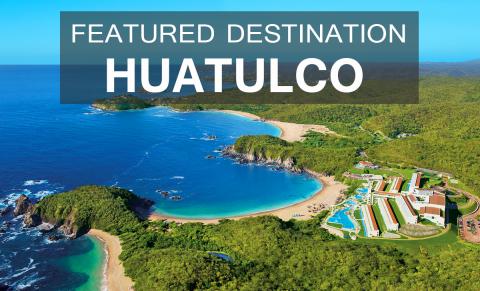 Huatulco, Mexico is in our featured destination spotlight this week. Discover the natural beauty and laid back vibe of this Pacific coastal area
The tourist area of Huatulco, Mexico, is made up of several small towns on the Pacific coast. This might be part of the reason the resort destination maintains a small-town feel. The area's 33 beaches and 9 bays offer visitors splendid natural scenery without the feel of being overdeveloped. Naturally occurring swimming holes have been carved out by cascading waterfalls over long periods of time.
The area's lush jungle, and proximity to the ocean makes a great location for outdoor activities and adventure tourism. Deep-sea sports fishing in the Pacific Ocean can be arranged, as well as fresh-water river rafting. Coral reefs and tropical fish are easily visible to scuba divers and snorkelers. Boats can also be hired to visit secluded beaches. Depending on the time of year and the weather, surfers are also able to catch Pacific waves.
Climate
Huatulco claims to have 300 rain-free days per year with an average daily temperature of 28 C.
November is a great time to visit due to low-season rates and the water is still warm. Northern visitors may appreciate the hot, dry weather from January to April or the hot, humid weather from May to August.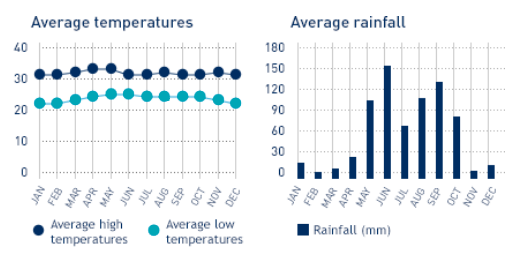 Top 5 All-Inclusive Huatulco Resorts
1. Secrets Huatulco Resort & Spa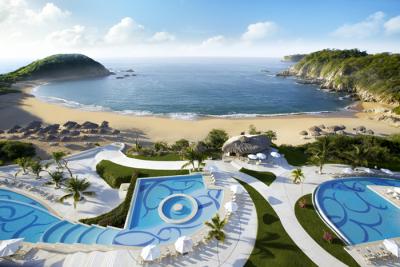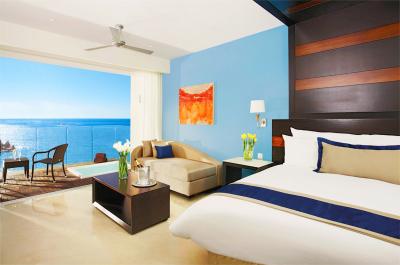 Tucked away on the secluded coastline of Conejos Bay, surrounded by golden sand, extraordinary rock formations and sapphire waters, this fabulous AAA Four Diamond resort offers an escape to serenity, romance and Unlimited-Luxury.  The adults-only Secrets Huatulco Resort & Spa offers 399 luxurious oceanfront suites, each featuring a king-size bed (or two double beds), whirlpool for two, private terrace or balcony, complimentary mini-bar and much more.
Indulge in an expansive array of international cuisine. Choose from seven á la carte gourmet restaurants, a buffet venue and more – reservations are never required. Or sneak away for a romantic meal in your suite or on the beach.
24-hour dining options allow guests to enjoy late night bites at the Coco Café. Or stay in and order room service. It's all available at any hour day or night. Your Unlimited-Luxury privileges include all meals as well as top-shelf spirits.
2. Barcelo Huatulco
    
The Barceló Huatulco is an all inclusive hotel located in the Bay of Tangolunda, the largest of the 9 bays of Huatulco. Its 351 rooms are decorated in warm colours and fitted with all the services guests need to feel at home. Located just a few steps from the sea, rooms have an unbeatable view of the bay or of the spectacular hotel gardens. 
Excellent cuisine is available at six restaurants: two buffet restaurants and four à la carte restaurants. And to enjoy the finest drinks, the hotel has four bars, located by the pool, lobby and theatre plus an authentic Mexican bar with live music. 
The Barceló Huatulco is the only hotel in Huatulco with a water park, the Barcy Water Park. It also offers many entertainment options, including tennis courts, kayaks, minigolf and kids' play areas, as well as spacious function rooms.
3. Dreams Huatulco Resort & Spa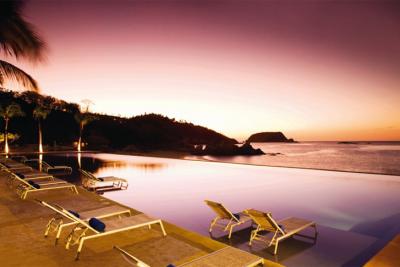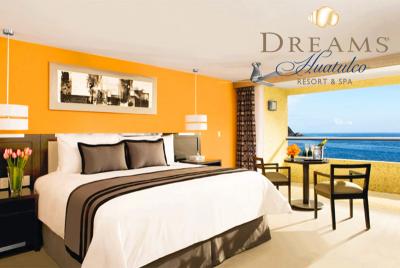 Set amongst lush jungle, soaring mountains, dazzling coral reefs and the picturesque Tangolunda Bay, Dreams Huatulco Resort & Spa is a sanctuary of leisure and adventure. Enjoy spacious rooms and suites, six swimming pools, including a large infinity pool, and an Explorer's Club for Kids. The surrounding jungle, mountains and coral reefs enhance the perpetual day and night adventures. Dreams Huatulco is minutes from waterfalls, lagoons, and traditional Mexican towns. This gem is sure to provide an unforgettable vacation experience for guests of all ages. Go far beyond the all-inclusive experience with Unlimited-Luxury, where nearly everything is included.
Retreat to your luxury room or suite with a private balcony or terrace, stunning views and more. Dreams Huatulco Resort & Spa features 421 guestrooms and suites with luxury amenities for your comfort and convenience.  Enjoy international array of specialty restaurants at Dreams Huatulco Resort & Spa, where reservations are never required. Choose from five à la carte restaurants, a buffet and a café. 24-hour dining options allow guests to enjoy late night bites at the Coco Café. Or stay in and order room service. It's all available at any hour day or night.
4. Camino Real Zaashila Huatulco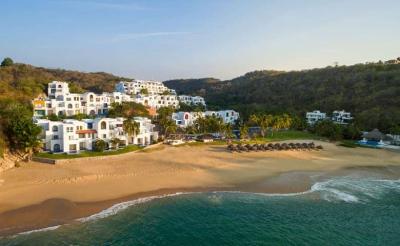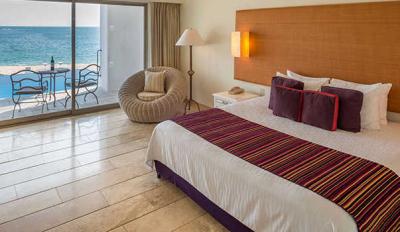 Nestled on the Huatulco hillside Camino Real Zaashila Huatulco will immediately remind guests of images of a Greek Island with its picturesque, whitewashed villas. This property has found the sweet spot between the spectacular natural setting and classic Mediterranean architecture. Spend your days lingering in the sculpted 120 meter swimming pool with its view of Tangolunda Bay and the sparkling Pacific.
Appealing to guests of all ages, kids will be delighted by the kids club while adults can enjoy a couples massage or luxurious spa packages. Those who prefer to see the scenery while getting active can take advantage of the hiking and biking trails nearby, or opt to take an eco-excursion. Back at your home away from home, à la carte dining and relaxing rooms await.
5. Castillo Huatulco Hotel & Beach Club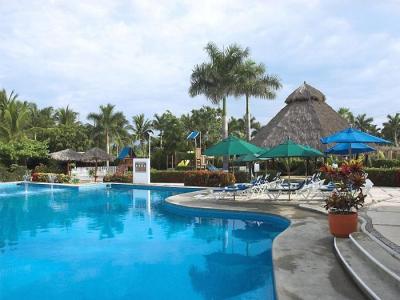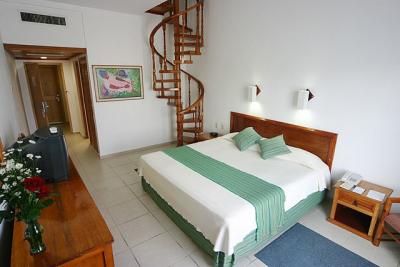 With spacious accommodations decorated in Colonial Mexican style, the Castillo Huatulco Hotel & Beach Club is an ideal location for a comfortable vacation with a touch of regional Latin charm. Guests of the hotel enjoy complimentary access to an exclusive beach club at the Blue Flag-certified Bahía Chahue. Here, you can enjoy a refreshing dip in a crystal clear pool or get active with a game of volleyball.
Hammocks are also available at the beach club for a relaxing nap under the shade of a palapa, while children will delight in the slides and swings at the playground. The on-site restaurant offers travellers the opportunity to sample authentic Mexican flavours in a casual setting, along with refreshing cocktails.
Contact Newwest Travel today to start planning your Huatulco getaway!