SEVEN RIVER JOURNEY: AUTUMN EDITION
Experience Autumn's Splendor Through Fourteen European Countries - 46 Night River Cruise
Embarking August 24, 2023 - Seven River Journey: Autumn Edition. Enjoy the splendor of Europe's brilliant fall foliage unfolding before your eyes on the new Autumn Edition of our inaugural season of Seven River Journeys. Be among an intimate group of like-minded travelers aboard an epic 46-night sailing that celebrates rich cultural traditions in fourteen fascinating countries. Enveloped in all the season's color-changing glory, you'll stroll through historical villages, bike to famous vineyards and orchards, and hike to hilltop castles.
Experience local cafes, colorful markets, harvest festivals, majestic cathedrals and stunning monuments to our ancestors' most poignant moments while enjoying the allure of the fall season and the exclusive experiences only AmaWaterways provides.
Seven River Journey Exclusives
One dedicated Cruise Manager who will take care of you throughout your entire journey

Complimentary gratuities both on board and ashore

Seamless transfers between ships

Small group excursions with a variety of choices each day, including unique new offerings

Exclusive experiences just for Seven River Journey guests

All fine dining on board in multiple dining venues

Complimentary laundry and luggage services throughout your river journey

Commemorative gifts

Additional surprises and delights
AN ARRAY OF AMENITIES

The slower pace of river cruising means you have more free time in port and can step right off into the heart of the city and explore. When you're ready to rejoin the ship, take a dip in the sun-deck pool, participate in one of our wellness activities, relax with a soothing massage or simply watch the scenery go by with a glass of wine in hand – the choice is yours.
Wellness Program with a dedicated Wellness Host

Sun-deck pool with swim-up bar and walking track

Fitness room

Main Lounge with panoramic views and bar

Daily entertainment including cultural performances

Complimentary Wi-Fi throughout the ship
SPACIOUS STATEROOMS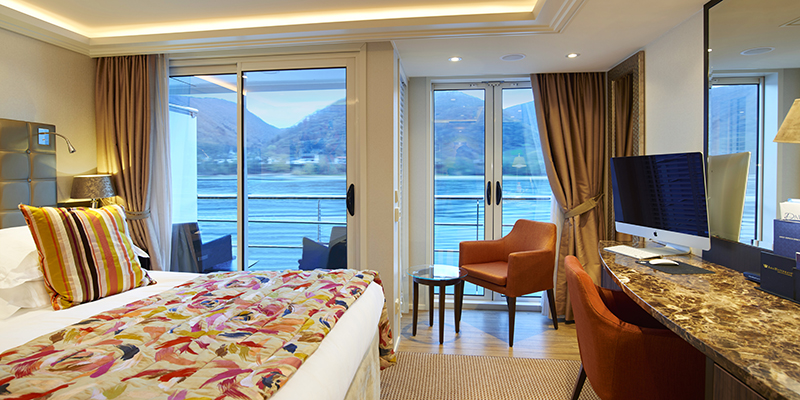 Our intimate, contemporary ships offer the luxury of personal space. Spacious and uncrowded, our award-winning fleet offers elegantly-appointed staterooms and suites with such welcoming amenities as our signature view-enhancing twin balconies.
Elegant riverview stateroom or suite (many with French balcony or twin balconies)

Computer for internet access

Entertainment-On-Demand in all staterooms

Desk and sitting area

Fresh water replenished daily
AWARD-WINNING DINING

As a member of La Chaîne des Rôtisseurs, AmaWaterways prepares exquisite, regionally-inspired cuisine at every meal and paired with complimentary hand-selected wines with every lunch and dinner.
All onboard dining in a variety of venues

Regionally inspired cuisine made with locally sourced ingredients

The Chef's Table specialty restaurant

Unlimited fine wine, beer and soft drinks with lunch and dinner

Unlimited sparkling wine and fresh juice with breakfast

Sip & Sail Cocktail Hour with complimentary wine, beer, spirits and soft drinks

Tapas, sandwiches, snacks and refreshments served daily
A WORLD OF EXPLORATION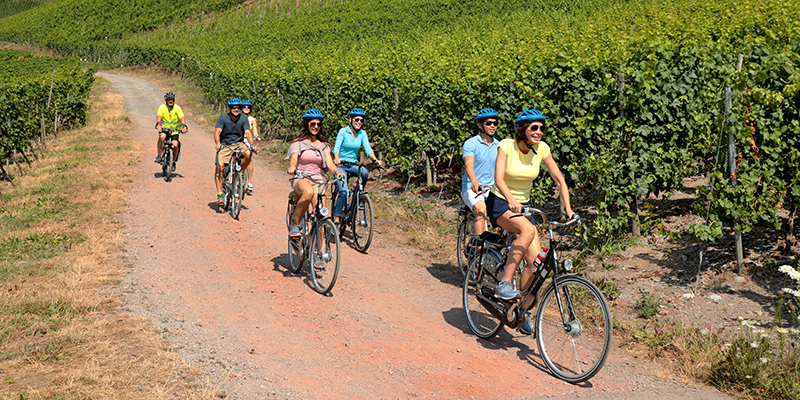 AmaWaterways has curated a diverse menu of included shore excursions, from walking tours for gentle, regular and active guests to guided hikes and bike rides. Excursions are operated in small groups of just 10-15 guests. We also offer immersive culinary-themed Special Interest Tours such as cooking demonstrations and tastings.
Immersive tours in every destination

Gentle, regular, active, and late-riser tour options

Bike tours and hikes

Special Interest Tours

Personal headset for easy exploration
ITINERARY
FRANCE
DAYS 1 – 6: Avignon, France to Lyon, France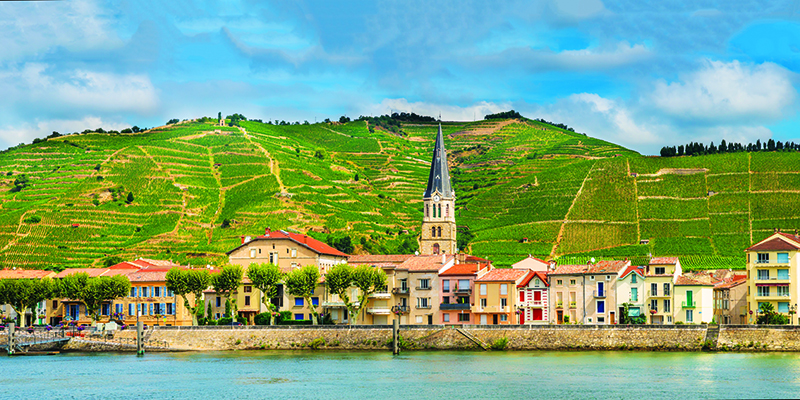 Say bonjour to the south of France, admire the idyllic countryside with a magnificent steam train ride, savor Avignon's highly prized "Black Diamond" truffles and visit impressive medieval architecture all while sailing along the Rhône River. From romantic cities to foodie havens and artistic epicenters, this segment enlivens all your senses. Enjoy an evening Illumination Cruise, savor the beauty of legendary vineyards, imbibe in local vintages like Beaujolais and Côtes du Rhône and become an expert in all things culinary.
RHINE
DAYS 6 – 13: Basel, Switzerland to Amsterdam, Netherlands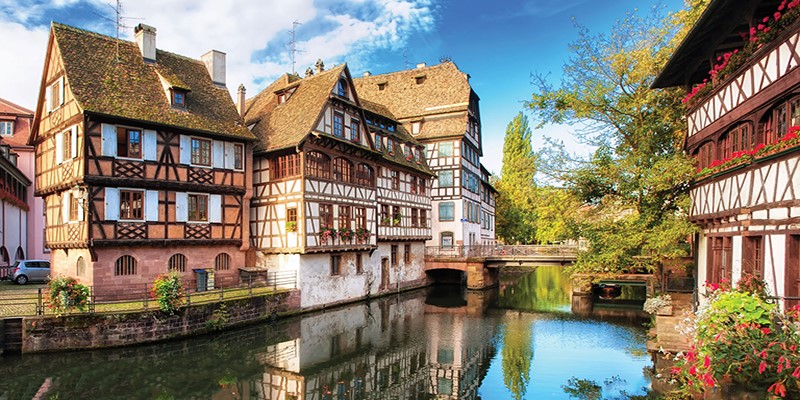 Contoured by vineyard-clad hills and castles from yesteryear, the legendary Rhine captivates. Explore fabled towns lost in time and touch history up close with guided hikes and bike rides. From Amsterdam's colorful canals to the majestic Swiss Alps, journey into the heart of the destinations you visit. Grand cities blend in perfect harmony with their historic past and their progressive future. Inspirational towns have given way to great stories, poetry and music, and timeless traditions remain intact—including the making of Rüdesheimer coffee. Take a front-row seat on an enchanting journey that takes you along the Rhine and through its designated UNESCO World Heritage Site.
DUTCH & BELGIAN WATERWAYS
DAYS 13 – 20: Amsterdam, Netherlands to Amsterdam, Netherlands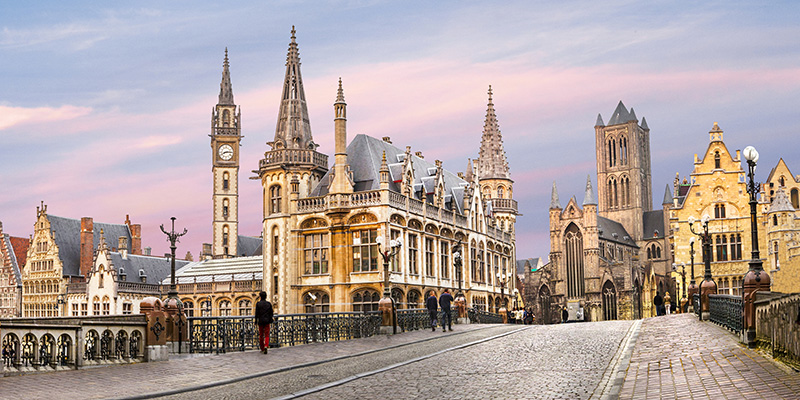 Follow the roaming waterways of Scheldt and Maas into the Netherlands and Belgium, beginning from the dynamic city of Amsterdam. Celebrate spring with vast tulip fields bursting with a kaleidoscope of color, the UNESCO-designated Kinderdijk and not to be missed Bruges and Ghent. Celebrate spring in the Netherlands and Belgium while experiencing Amsterdam's colorful canals, the whimsical Kinderdijk windmills and the art of Rubens and Michelangelo. Throughout your journey indulge in Belgian chocolates, warm waffles and delicious cheeses—all while savoring the storybook atmosphere of the region.
RHINE, MAIN, MOSELLE
DAYS 20 – 27: Amsterdam, Netherlands to Wasserbillig, Luxembourg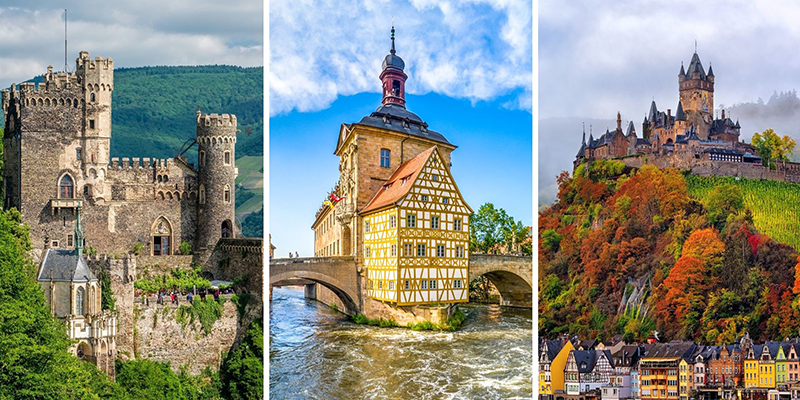 Glide past castles along the Rhine River's banks before reaching its main tributaries: the vineyard-clad Moselle River, the "best-kept secret" in river cruising, and the Main River, which cuts through storybook villages and is home to the impressive Main-Danube Canal. Drink in the beauty, history and flavor of the Rhine and Moselle river valleys' iconic vineyards. Soar above vineyards by gondola or hike among the grapes in Rüdesheim and sip wines in Bernkastel. Whatever you choose to do ashore, the stories you're told and flavors that grace your palate will surely transform you.
DAYS 27 – 32: Wasserbillig, Luxembourg to Würzburg, Germany
From the meandering Main to the UNESCO-designated Upper Middle Rhine Valley to the vineyard-clad hills of the Moselle, enjoy Europe at its most picturesque. Let storybook villages captivate you and gain an intimate understanding of the history and culture of the places you visit.
DANUBE
DAYS 32 – 39: Vilshofen, Germany to Budapest, Hungary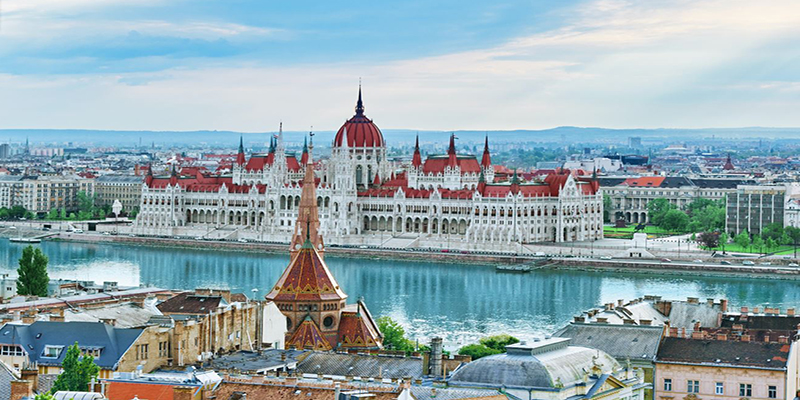 Cruise through thousands of years of history, where castles were built and kings and queens were crowned, visiting off-the-beaten-path wonders in countries such as Croatia, Serbia and Romania and finding your own inspiration on this legendary waterway. Those longing for the romance of Old World Europe will get to travel into the very heart of the continent, where empires were built and some of the world's greatest music was composed and performed. From grand abbeys to fortresses, be romanced by the Danube with all her regal and romantic splendor.
DAYS 39 – 46: Budapest, Hungary to Giurgiu, Romania
Touch history as you sail along the exotic lower Danube. Celtic fortifications, medieval towns and grand cities, along with the natural beauty of pastoral landscapes and the Danube's famed Iron Gates, showcase the best of eastern Europe. From nature lovers to wine connoisseurs alike, be treated to the flavors, sights, sounds and cultures of this diverse swath of the continent.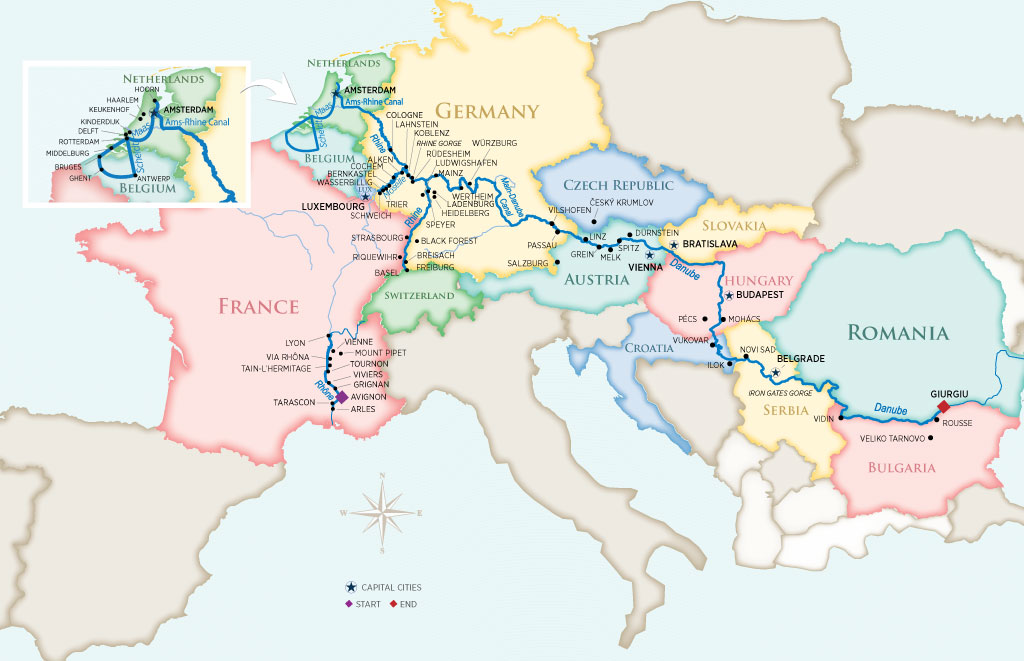 Terms and Conditions: Rates listed are in CAD, inclusive of port charges and gratuities (on board and ashore) and are per person based on double occupancy. Rate of C$37,439 is in a Window Category E stateroom; C$49,311 is in a French Balcony Category CB/C stateroom; C$67,781 is in a Suite; rates vary for other categories. Early Booking Reward of 5% cruise savings is per person based on cruise-only fare and valid until June 30, 2021. Solo travelers must pay an additional single supplement amount before receiving any discounts. Past Guest Savings may be combined with Early Booking Reward and are applicable only to past guests. 5% Early Booking Reward is applied after all other promotions. Upgrades, airfare and land packages are additional. Offers are limited to availability, capacity controlled and subject to change or termination without notice. Other restrictions apply.
Book with Deposit by June 30 to Save
$5%
Category E Stateroom Double Occupancy
$37,439
Balcony Category Double Occupancy
$49,311
Suite Category Double Occupancy
$67,781
All prices include taxes